Many of us continue to enjoy the Tuesday plein air organized by Linda Drewry. This past week we spent a beautiful rain-free day at Pointe-du-Moulin, Notre-Dame-de-I'île-Perrot. The historical park is in summer mode offering tours of the windmill and visits to the stone farm house. Some of the staff are dressed in period costumes. So, when the lady of the house came and sat in the doorway, I decided she needed to be part of my sketch.
This past Saturday August 5 Montréal artist Marc Taro Holmes organized an informal gathering with Australian artist Liz Steel and French artist Anne-Laure Jacquard  at Place Jacques Cartier in Old Montreal. All three are ardent sketchers and instructed workshops at the recent Chicago 2017 International Urban Sketchers Symposium. This was a stop over before heading home and an opportunity to sketch and visit our city.
The day started with a downpour of rain, an ITU World Triathlon at the Old Port, incredible road traffic and street closures. I arrived late at Place Jacques Cartier to see only two ladies sitting on a bench with sketch book in hand from Upper State New York. As Marc said, "We're easy to find- just look for people with sketchbooks and drawing boards!"
Eventually, everyone used the same strategy and with the rain gone and the sun out a final gathering at Jacques Cartier Place completed the day.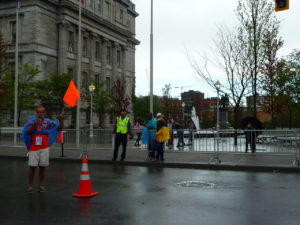 I am always aware of my environment as I sketch and today was no exception. I heard the cheers of the nearby cycling and running portion of the triathlon. Spain's Javier Gomez Noya won the Montreal triathlon. He completed the 1.5 kilometre swim, 40 kilometre bike ride, 10 kilometre run in one hour 47 minutes 50 seconds. The women's race was won by Australian Ashleigh Gentle with Canadian Joanna Brown of Ottawa in fourth.