This time our winter break in Mexico included a trip to Oaxaca for 5 days.
We decided on a 30 minute plane ride instead of the 10 hour bus ride. It was a pleasant trip operated by Aerotućan in a Cessna Grand Caravan with space for 14 passengers. We stayed at the family owned Hotel Casa las Mercedes which is central to the square, museums and restaurants. A half day trip to Monte Albán was a must see on our list – a pre-Columbian archaeological site and UNESCO World Hertiage Site.
There are many museums in this city but my top choice is Museo de las Culturas de Oaxaca. It is adjacent to the Church of Santa Domingo de Guzmán and will take up to a good part of your afternoon as it covers pre hispanic, Spanish Conquistador 1519, and contemporary culture.  The Baroque architecture of the Monastery and Church started in 1575 and took 200 years to complete and is built with cantera a local greenish quarry stone. It is impossible for one to understand how this was accomplished without modern day machinery. On the top floor there are a few panoramic views of the botanical garden; an enjoyable addition as access to the garden is restricted to guided tours and specific hours and days. The library of books and illustrative draws is extensive and if you enjoy history and drawings spend time here. If you decide to visit this attraction it is 1/2 km. north of the central square, Plaza de la Constitutución  on a pedestrian only street. The Plaza is a great place to take a refreshing drink and enjoy the music, venders of goods which can be annoying but a firm "no" works. The steeple of the Cathedral of our Lady of Assumption from the square becomes a landmark for orientation. To note the original towers were destroyed in a earthquake in 1931.
Nearby our hotel is the the Cultural Centre of San Pablo originally constructed in 1529 by the Dominicans to house the convent of Santo Domingo de Soriano. Completely renovated the space includes the cloister, textile museum, outdoor plaza and restaurant. The restaurant can be entered by Independencia Avenue or the interior plaza. The serves and food is of excellent quality and well priced.
All churches, museums and civil buildings are built from a local green tinged quarry stone "cantera" . The fountain base in the square near our hotel was made up of large cut blocks of cantera which glimmered and changed accordingly to the slant of the sun. Below are a few more watercolour sketches from my stay in Mexico.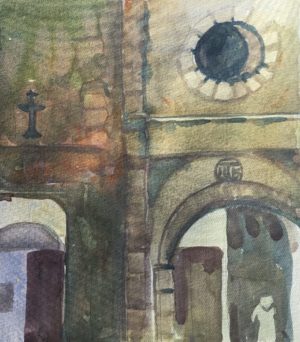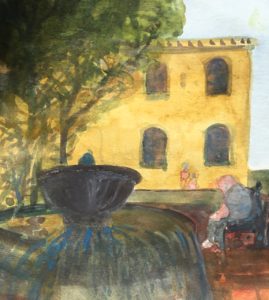 Oaxaca city is in one of the poorest states in Mexico but throughout our stay we felt at at easy and welcome. Thanks for a great visit.