Last Saturday, we visited the paintings of artist Claude Monet (1840-1926),  A Bridge To Modernity, at the National Gallery in Ottawa. There are twelve paintings (1871- 1878) in this exhibition completed at Argenteuil where Monet lived in the village – close to Paris and on the Seine River. It was here he used the scenery and the bridges to further explore his composition and impressionist approach. Prior to his return to France, Monet lived in Holland and England to avoid the Franco-Prussian war (1870-1871). The devastation of war was here when Monet and Family arrived. One of his first paintings was Argenteuil, the Bridge Under Repair. To be informed about this period of Monet's life go to the National Gallery website where Katherine Stauble writes about  Monet's Impressive Bridges at Argenteuil.
The Gallery has made the exhibition interactive. You can pose in front of a vintage postcard, activate the computer camera and e-mail the results. There are different props and enough room for a family photo.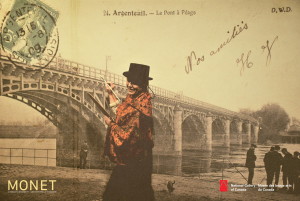 Secondly, a separate room supplies four iPads with the app Art Set. Summer scenes of Ottawa bridges are cast on the wall for you to interpret. Again, you can email your results or see it with many others on the side wall. The beauty of Ottawa bridges is well worth a visit to this room. There are benches at the back to sit and view these rotating videos.
This month I sketch my local bridges.
.