After the Zbukvic workshop, I have Saturday and Sunday mornings free before I leave for Montréal. Chi Mai has offered to show me a part of Paris I have not seen in previous trips. We start by buying the best croissant in Paris at  Les Gateaux et du Pain. The plan for the day is to walk from Gare Montparnasse to La Seine. La touche Française continues, it is the weekend of the  Journées Européenes du Patrimoine  en Île-de-France with free entrance to cultural events and museums.
First, we stop for a quick sketch in the square Saint-Germain-des- Prés. We sit on a bench in front of Bernard Palissy statue; I sketch in ink with my Lamy pen. Palissy was famous for his unique ceramic pottery. In 1563 he received the title of King's Inventor of Rustic Ceramics and following this award Catherine de Medici commanded him to decorate one of her palace in 1567.
Within 20 minutes we are off, making a brief stop to view the Wallace Fountain on Saint-Germain-des-Prés. This is one of many public water fountains designed by Charles Auguste Lebourg and financed by the Englishman Richard Wallace. A recognized world symbol of Paris. Most of the fountains still provide potable water from March 15-November 15.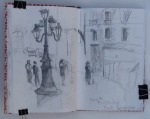 A quick turn here and there, we arrive at Place de Furstenberg to hear voices rehearsing for a free concert under the trees. Another sketch in pencil in my Venezia sketchbook. Just to our left the studio home and now museum of Eugène Delacroix awaits us with no line up. The last residence of Delacroix from 1857 until his death in 1863.There is a quiet serene garden adjoining the home, a great place to sketch but not today.
Onward, I catch a glimpse of a sculpture by Niki de Saint Phalle ( 1930-2002) in a gallery window. A French-American model, sculptor, painter, filmmaker and perfumer. I recalled the images of earth mother referred to as "nanas" with big bodies and small head. I remember the quote a mother figure is both a creator and destroyer which was shared by her contemporary Louise Bourgeois. Her love of making these sculptures would cause fatal emphysema from toxic polyester fumes in 2002.
We see the  Beaux-art de Paris l'ecole nationale supérieure 14, rue Bonaparte is open to the public. No line up here and in we walk to architecture, sculptures, library, paintings, busts and anything related to the beauty of art. Time for a rest before the rainstorm hits. We sit next to the Seine and sketch. Big dark clouds are threatening thunder and rain. Time to be quick and take the metro.
Sunday morning, free lectures at the La Coupole at 11am by Thomas Dufresne, art historian and member of  the historical society of the 14 arrondissement where the brasserie is located since 1927. The art decor interior is exceptional and little has changed since it's beginnings. The patrons during these years are household names like Jean-Paul Sarte, Simone de Beauvoir, Hemingway, Picasso, Coco Chanel and many more with their black and white photos adorning the walls.