Life moves on and it's time to update. This spring we spent 5 days at Charlevoix to sketch, to enjoy fellow artists and the local ambiance.
We stay at the L'Auberge Cap Aux Corbeaux, Baie-Saint-Paul, Qc with it's panoramic view of Isle-aux-Coudres to the Massif from sunrise to sunset in all types of weather.
Each artist has a favourite spot maybe Port-au-Persil, parc national des Grans-Jardins, Saint-Hilarion or Malbaie but my preference is along the Fleuve Saint-Laurent. As usual, I go to the small gazebo beside the sailor's church at Saint-Joseph-de-La-Rive. It provides shelter from the cold, rain and wind this day. My watercolour sketches were not truthful to the reality of the weather this day. I have no explanation but one of those times when the hand over rides the mind.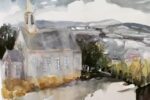 ´
My stay always includes a stop at L'idée Forgée to chat with the artisan-forgeron Jeannot Duguay. What a special man, artisan and blacksmith. There is a photo of him in his atelier taken by Mon Charlevoix which reminds me of Anselm Kiefer and the saying "same mother different father".
There is an informative article by Léa Asselin-Abston with more photos of Jeannot in his studio. Here is the link
 Duguay, le passionné artisan-forgeron de Saint-Irénée 
Lastly before leaving we have lunch at Pains D'exclamation in Malbaie – always a treat and it never disappoints. A place to warm up with a cappuccino some bread pudding and do some sketching.
As always we take an hour to walk the Main Street in Baie St. Paul to look at the galleries. Galerie  Guylaine Fournier was our favourite of the day. She was generous with her time and knowledgeable. There is a wide variety of sculptures, furniture, watercolour and acrylic or oil paintings.
A great 5 days to recharge the soul.