This January 28, 2017 the Lunar calendar celebrates the year of the Fire Rooster – focused, motivated and "cocky" . If your sign is a rooster – enjoy yourself it is not happening again until 2029.
There is an abundance of free roaming poultry here in this village. It should be an easy assignment to sketch a few but they are quick on their feet. I thought maybe wait till twilight but the Mexican proverb is "be prudent when walking or standing under roosting poultry, if the hen lets loose and soils you are in for bad luck but if the rooster lets loose and soils great luck is coming your way".
Here is my interpretation completed in watercolour on Arches paper taken from Japanese artist O'Jay.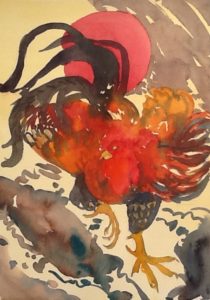 The Rooster is an intergrated part of Mexican culture. Mass of the Rooster "misa del Gallo"  is part of Christmas Eve activities. The rooster is positioned on the roof of the stable in the nativity scene. There are a many version why the rooster is part of the Catholic sermon.
Happy New Year 2017