In the early 1950s, Norwegian immigrants decided the Old Country Market in Coombs, Bc would have a sodded roof similar to ones from the old country. The goats kept the roof trimmed and became a tourist attraction.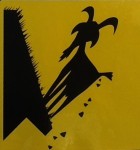 As you approach the village of Coombs on the Alberni /Tofino Highway between Qualicum and Parksville you see parked cars and campers lining both sides of the highway. They have stopped to look at the famous goats but beyond are many other attractions such as imported and local cheese, homemade ice cream, fresh fruits and vegetables, garden pots and statutes. For myself, it is the water garden beside the Cuckoo Trattoria that is the main attraction.
As usual, I have my small metal watercolour box, water container, a few brushes and my Venezia sketch book.