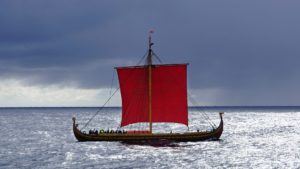 Some of us are following the Viking ship on You tube, Draken Harald Hårfagre as it sails across the Atlantic to North America this spring. First stop on Canadian soil is June 1, St Anthony, Newfoundland, then to Quebec City for June 15th, onto Toronto for July 1-3. My wish is to be able to see and sketch this masterpiece. There should be opportunities along the St. Lawrence River as she heads for Toronto.
Now the weather is warm here in Eastern Quebec, there are opportunity to paint outdoors with other artists. The Urban Sketchers of Montréal meet the fourth Sunday of each month. Artist friend Jane Hannah is one of the founding members and always mention the up coming  render-vous on her blog. This past Sunday we met at the Smith House on Mont Royal. Here is my sketch of the house in watercolour.
Another great source of Montréal outdoor painting spot is a weekly list by Linda Drewry.  Click on her name and I have posted her agenda. On tuesday May 24, about 15 artists met at the parc-nature du Bois-de -Liesse, Pierrefonds. Linda Drewry was there waiting to welcome us at the Historical Pitfield Home. I decided to sketch the pond at the back of the property. Here is my watercolour.