Kamouraska, Québec City, Île d'Orléans are some of my favourite places to visit and sketch in Québec.The village of Kamouraska is well known for its bakery, fishery, eateries, heritage buildings, and scenery. The light is airy even on a rainy mist filled day. I decide to paint the stone house looking out towards the islets at high tide.
We visit the  Vignoble de Sainte-Pétronille on Île d'Orléans. It sits high above the St Lawrence River giving a spectacular view of the grape fields descending towards a Normandy farmhouse, the Montmorency Falls and the bridge to the mainland. We sip a bottle of white wine , enjoying friends and a world class view.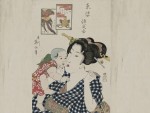 The Musée Nationale des Beaux-Art in Québec city presents  Japan Inspiration until September 27, 2015 – a visit is a must on my list. Firstly, the location on the Plains of Abraham is a present day grand park filled with greenery and flowers sandwiched between a spectacular view of the St. Lawrence and the Grand Allée. We forget the past battle fought between Montcalm and Wolfe. Within this park sits the museum comprised of three pavilions; a 1933 neoclassical building by architect Wilfred Lacroix, a old prison from 1867, a central transparent pavilion of glass, granite and a rooftop garden. The recently completed glass entrance on the Grande Allée by the Netherlands architectural firm of Rem Koolhaas and Montréal architects Provencher Roy gives the modern touch to this site filled with our history. Inside, the exhibition is well worth the visit. I see first hand the direct influence of the Japanese woodcuts on the Impressionists; the light tonality and large bold masses filled with colours.
To finish my month of sketches, I looked to my garden and pick some August flowers.
.