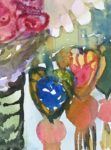 Time to talk about food. For breakfast I like the arena style Los Juouilenas on 8 Norte before the big indoor Mercado. I order a fresh orange juice then add ice cubes, café con leche which always comes sweetened and a quesadilla à la flora (squash blossoms).  Good service, reasonably prices and variety of Mexican food on menu. As an alternative for breakfast, light meal or snack we have Chedraui a large megastore offering a cafeteria style eatery. Before you get in to this store you may be asked by the security guard to check your bags, maybe look in your bag, do not be offended, just smile. My favourite beverage here is illy coffee- cappuccino, latte or expresso This eatery offers good value, air conditioning and great people watching.
For atmosphere next to the sea, Los Crotos is one of many places for seafood. The prawns brochette is a simple meal but perfectly prepared and enjoyed. Pascale next door offers similar fine dining. The appetizer of grilled vegetables is plentiful and easily shared with another. Tuna about one and half inches thick is cooked to perfection served with rice and green salad.
For Italian cusine, Benditos, is at the end of the street fair on your left, open for supper. Excellent pizza from their wood burning oven but also lasagne, fettuccine with a light sauces of tomato, mushrooms and fresh grated Parmesan cheese for topping..much more to chose from you need to go often.
I continue to sketch and paint daily.